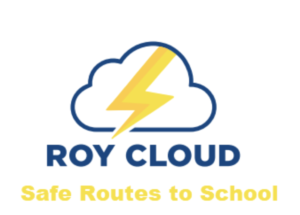 Safety on the way to and from school is certainly a big aspect of our everyday life – whether your kids are walking, cycling or have to be driven, we want to make sure that every aspect of it keeps your kids safe while they are on the road. We want to invite and encourage you to pick an environmentally friendly way to get your kids from and to school – after all, the behavior that you mimic today is how they will act in the future – so walk, bike, roll to school!
Read on – here you'll find more information on how to pick the best commute option for your kid.
Are you interested in walking on one of our bus routes; volunteering on one of the existing routes to learn more about safe biking around Roy Cloud or just want to stay informed on upcoming walking days, like Earth day Walk, international walk to school day or Golden Sneaker challenges?
Please get on our interest list – fill out this short questionnaire (if you are interested in more than one program, please fill it in multiple times as the questions change based on your answers)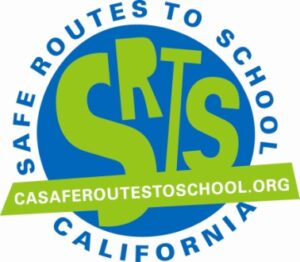 Here is some more information about our different commute options:
---
Walking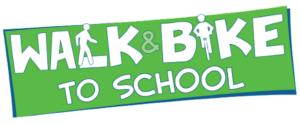 By far the most environmentally friendly way to get to school. Even if you live farther away, we encourage you to park either somewhere along one of our walking school bus routes, or at least two blocks from school and start walking from there.
Countless studies list the benefits of walking to school. Not only does it improve concentration, helps the kids with the ability to sit, listen and retain the knowledge they learned, surprisingly, it also helps kids with a positive attitude towards school, increases creativity, and improves confidence as they can always find their way back home. Try it out! True, it requires some effort at the beginning to get organized in the morning, and may also require leaving home 5 minutes earlier than when taking the car, but seriously 5 minutes considering all of these benefits, how should this be a problem?
Even more studies show that you can make your kids smarter for 4 hours or by half a year!!! So stop the parent taxi and get your kids on the move. As soon as the habit is built, you will see these true benefits. Roy Cloud participates in several district/county/international events throughout the school year – often there are prizes too! Try them out!!
Walking School Bus
We have had 3 walking school bus routes for several years now. During the Jogathon during the pandemic, we even used these routes to 'hide' the paver stones for the scavenger hunt – remember? Was walking along them hard? Did you realize how close and convenient these routes are to get to school? If so, join us in walking this year!! We need to reestablish 'drivers' for making the bus routes functional!!!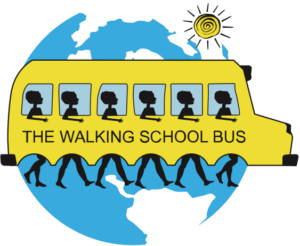 Since this process is becoming increasingly hard with schedule changes and such, we would like to slightly shift the concept to walkpools – similar to carpools where parents take turns walking with some of the neighborhood kids to/from school and coordinate amongst each other who's walking which day. Please sign up to be placed on the email distribution list for each of the routes! No route along the way where you are coming from? No problem – let us know where you are walking from and we will see if there are others interested in this area also.
Parents are welcome, but not required, to join the walk the whole way – it however is a great community building activity also! Parent volunteers are the engine behind the Walking School Bus/Walkpool!! Volunteering is easy and rewarding. Just let us know what time you usually leave your house and the route you take to school and we will help find other parents to share the route with you.
Click here to download your copy of Walking to School Safety Tips. Questions? Contact Heidi Von Briel.
Routes and Timetables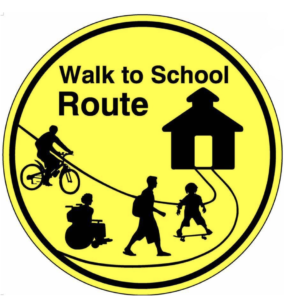 Orange Route
The Orange route leaves from the north side of Eden Bower (Alverno Ct) at 7:40am and walks along the North Side of Farm Hill Blvd. The route walks up Cambridge Rd before turning into Bret Harte/Emerald Hills/Red Oak Way
Schedule: every school day!

Parent Volunteer: 4 families alternating currently – contact Eric Darmstaedter to find out more if you would like to walk along!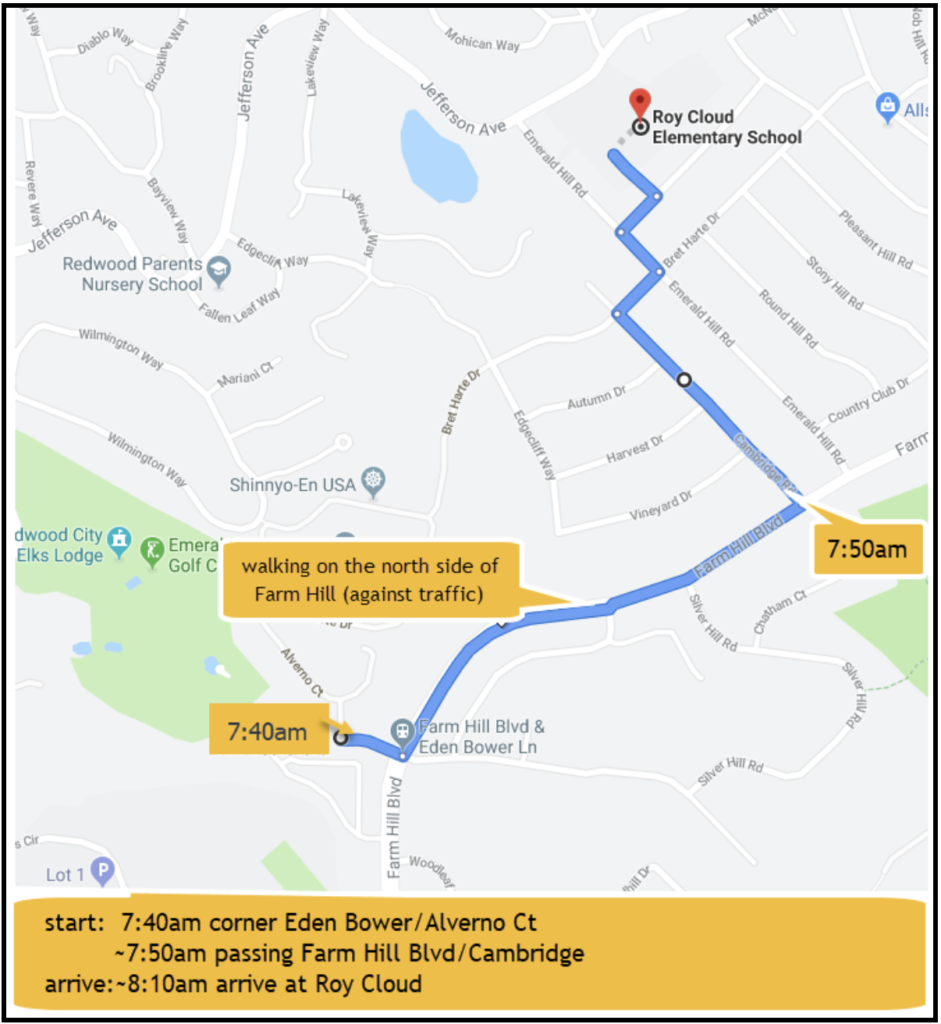 Blue Route
The Blue route leaves Glennan Drive and Country Club Drive by 7:53am and stops at Glennan Drive and Bret Harte Drive at 8:00am. It arrives at Roy Cloud around 8:10am
Schedule: every school day but times are slightly off some days, so best day to start walking with us: Fridays
Parent Volunteers: Heidi Von Briel and Alison Oldford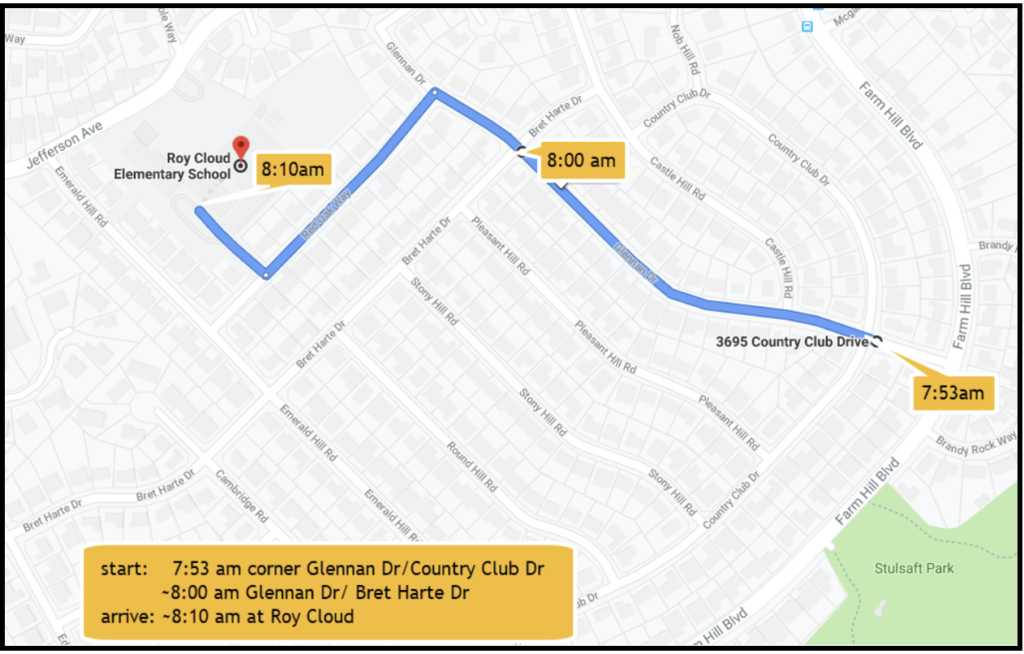 Green Route
We have redesigned the walking route of the Green route for the 2023-2024 school year! Now starting at the Redwood Parent Nursery School at 7:55am and getting to Roy Cloud in time for the first bell.
Schedule: email Kerry to discuss
Parent Volunteers: Kerry McGuire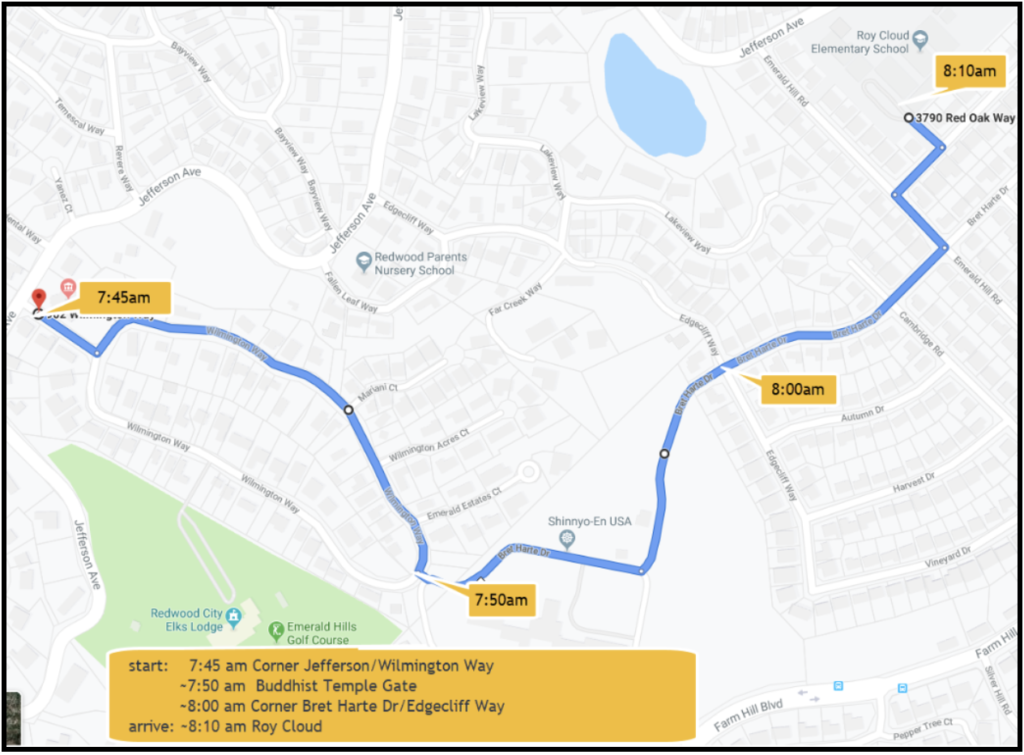 Other walking Routes
Find here the walking map for Roy Cloud created by the Redwood City transportation department. You can download it here
Walking School Bus FAQ
What is the schedule?
Each route has its own schedule. Check the maps for a detailed schedule. All routes run on Friday mornings, rain or shine.
How will I find the bus?
Our adult volunteers wear a bright orange jacket, safety vest or hat, which makes them pretty easy to spot!
Can my child go alone?
Parents are welcome to join their child on the walk, but they are not required to do so! All children in grades K-8 are welcome. It is at the parent's discretion to determine if their child is ready to participate.
Is there a route near me?
There are 3 routes that currently serve Roy Cloud. The Green route begins on Wilmington Way. The Orange Route begins at Farm Hills Blvd. and Emerald Hills Road. The Blue route begins on Glennan Dr. and Country Club Drive.
No route near you?
Volunteering is easy. Tell us the time you normally leave your house and we'll create a custom route for you and help you find other parents to help. Questions? Contact Heidi von Briel.
Why should I participate?
Increased physical activity, weight reduction, improved test scores, improved mood, a stronger community, a healthier environment, less traffic congestion, and a less stressful Friday morning!
Does my child have to walk the entire route?
No. You can meet the bus anywhere along the route. Safe transfer is very important so we ask that parents ensure their children are safely in the care of the adult volunteer. Volunteers are not responsible for children between their home and the designated Walking School Bus (WSB) pick-up points.
What if I am running late?
Our volunteers cannot wait for children because it will make them arrive late to school. Like a regular school bus, if you "miss the bus", it is your responsibility to get to school. To avoid missing the bus, students can be waiting on the route (much like we waited for the school bus when we were children) before the scheduled bus time.
How should I prepare my child?
Make sure your child has a solid understanding traffic safety. You also should be clear that participating in the walking school bus is contingent upon staying close to the adult volunteer and listening to his/her directions. For safety reasons, children who do not follow the volunteer's direction will lose the right to participate.
How do I volunteer?
There are many ways to support this program! You can volunteer to lead a route, help to identify and eliminate physical barriers, keep watch if a route passes your house or slow down when you drive. Together we can contribute to a successful program and safer community! If you want to volunteer, contact Heidi von Briel.
International Walk to School Day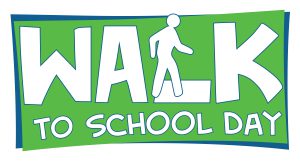 International walk to school day this year is on
Wednesday, October 4th 2023.
Be sure to join us on one of our established bus routes this day!! Usually we pass out prices at the entrance of the school to all kids who walked, sponsored by the Redwood City 2020 / Redwood City Together initiative!
International walk to school day is a truly international event. Students all across the world make it a point to walk that day. Read more about the event here.
Since the beginning of the program, more than 8.2 million students around the world have participated in 10,000 schools for International Walk to School Day. WALK WITH US THIS YEAR!!!
Ruby Bridges Walk to School Day
Monday, November 14th 2023
The San Mateo County School Districts and schools in San Mateo County are encouraged to recognize Ruby's impact by adopting "Ruby Bridges Walk to School Day" on November 14, or on the second Tuesday of each November when November 14 falls on a weekend.
About Ruby Bridges Walk to School Day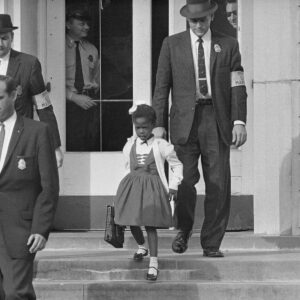 In 2018, a group of fifth graders in the South San Francisco Unified School District were so inspired by Ruby's courage that they advocated to make November 14th Ruby Bridges Day. With the help of the San Mateo County Office of Education, their dream became a reality.
Learn more about how these students were inspired to create Ruby Bridges Walk to School Day and celebrate Ruby's bravery and courage. Find out more about the history of this walk here.
Earth Day Walk
Our annual Earth Day Walk this year will be on
Wednesday, April 24th 2024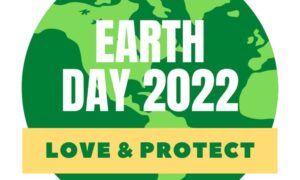 Another excellent day to walk!! Get out there and, if you did not manage for the whole school year to walk, at least try this one day!! Celebrate your planet in NOT polluting this day and WALK to school. Even our very conservative EPA admits that 27% of all greenhouse gasses are caused by transportation. And it is the sector where we continue to INCREASE pollution year after year.. Get the details from the EPA's report here. Explore the car industry's trends before you shop for a car here.
In 2023 we celebrated Earth day with a week-long walk and garbage pickup event – we had students of all ages participate in this double earth-friendly event and collected 8 bags of garbage and 3 bags of recycling – all along the walking routes to Roy Cloud!!! We are considering turning this into a monthly event – let us know on the questionnaire if you are interested in participating!!
Golden Sneaker award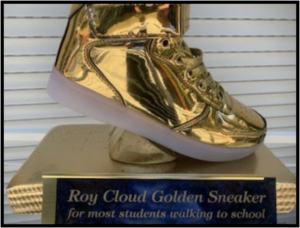 A few times every year we award the class with the most sustainable modes of transportation over a period of time with the Golden Sneaker award. This will be presented to them during the morning assembly the Thursday after. Watch out for announcements about Golden Sneaker competitions in the Thunderbolt and in the morning announcements.
A formal San Mateo County Golden Sneaker Competition is held during the last week of February and first week of March. Last year's Roy Cloud winners were Ms. Parodi's first grade class and Ms. Johnson's 5th grade class!
Biking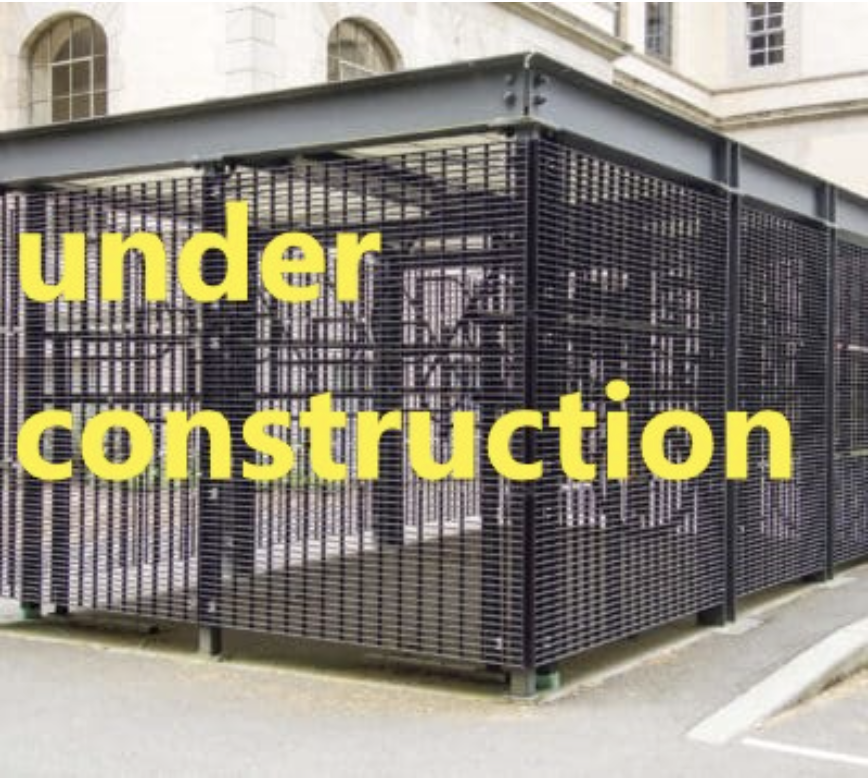 We have gotten a grant for a new bike locker!!! The previous year was a crazy year for any construction with measure S being decided on, so while the plan was to have this ready for the new school year, we are still working on getting this installed. Watch out for this going up this year! Plus, it will have a solar bike charger for those students who are intimidated by the hilly location of Roy Cloud and want to invest in an e-bike! So stay tuned for some changes on campus around biking!!
Bike Safety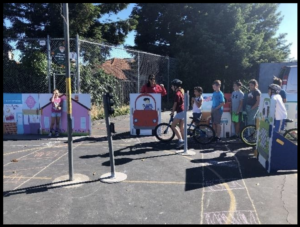 We conducted bike safety trainings at Roy Cloud last year during the crazy power outage months. We needed to catch up 4 grade levels since the last training that was held in 2019. This year we're hoping to roll this training out to more of the school and as part of the regular PE class together with PE+. Watch out for flyers going up around it. Interested in helping with some stations? Please sign up here!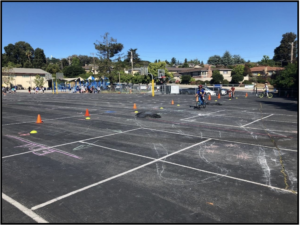 We will keep you updated in the Thunderbolt on when these bike safety trainings will be happening.
We hope to reintroduce this to 4th and 5th graders again this year – stay tuned about more information about this program.
Bike to School Day, May 16th, 2024
Join cyclists from around the Nation in celebration of National Bike to School day! The first National Bike to School Day event was held on May 9, 2012 and scheduled to coordinate with the League of American Bicyclists National Bike Month
Roy Cloud bike swap
Did you know that many RCSD kids do not own a bike and have not learned to ride a bike yet? We want to fix that! Starting with the kids at Roy Cloud, we are trying to get a list of students that do not have a bike at the moment and are looking to get one donated.
At the same time, we are hoping there are families that have bikes that their kids have outgrown that we could use to make another Roy Cloud kid a bike rider!
Have a bike? Need a bike? Please let us know via the questionnaire!
Carpooling
You don't live within walking distance?
Are you tired of doing the ride to Roy Cloud several times every day?
Not sure if there is a neighbor nearby with the same schedule?
Fill in your information in the questionnaire here and we will try to match you with a neighbor in your region that you can contact to carpool with!!
Driving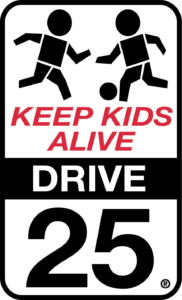 Even if you are not ready to walk or cycle to school, you can help make the roads around Roy Cloud safer by signing and following the safe routes to school safety pace car pledge.
Roy Cloud
Neighborhood Pace Car Pledge
By joining the Roy Cloud Neighborhood Pace Car Program, you can play a significant role in creating safer neighborhood streets for our kids to walk or bike to school.
Not only do Pace Cars set an example of obeying the speed limit, they also set the pace for other vehicles driving behind them.
So start setting the pace! Join other Roy Cloud parents by pledging to do the following:
Drive within the posted speed limit

Stop at all Stop Signs

Yield to Pedestrians in Crosswalks & smile at them

Be courteous to Bicyclists and other motorists

Leave enough travel time to practice courtesy and safety

Turn off your engine when stopped for more than 10 seconds,

especially

in the parking lot and on hot days

Choose to drive less by walking, bicycling when possible to reduce traffic congestion, save money, and improve the environment

Encourage others to join the Pace Car program
… and I will try to do all that EVEN IF I'm IN A HURRY
Ready to take action? Fill in the questionnaire and put your name on the pace car driver list!!
Pace Car Pledge
"I pledge to drive within the posted speed limits; stop at all stop signs and red traffic lights; yield to pedestrians in crosswalks; be courteous to bicyclists and other motorists; leave enough travel time so I don't rush; choose to drive less; and to encourage others to take the Pace Car Pledge."
Public Transportation – Bus Service

Kids from social-economically disadvantaged families can get free bus passes this year! Please come to the Roy Cloud office and ask about the youth unlimited program – the description on the Samtrans website has not been updated yet, but the program has been extended for another year.
Other students can get a youth clipper card or the clipper app letting them ride at 50% of the regular price (bus and caltrain!). A ride within any location in Redwood City currently costs $1.10 for kids. Monthly passes are available too!
More information about Samtrans school bus routes can be found here. Specifically for Roy Cloud you will find that the former 274 route unfortunately has been discontinued and now only 278 and 78 are available.
The bus stops are down at Farm Hill Blvd (a 0.5 mile walk), taking public transportation is another more sustainable means of transportation compared to driving the car.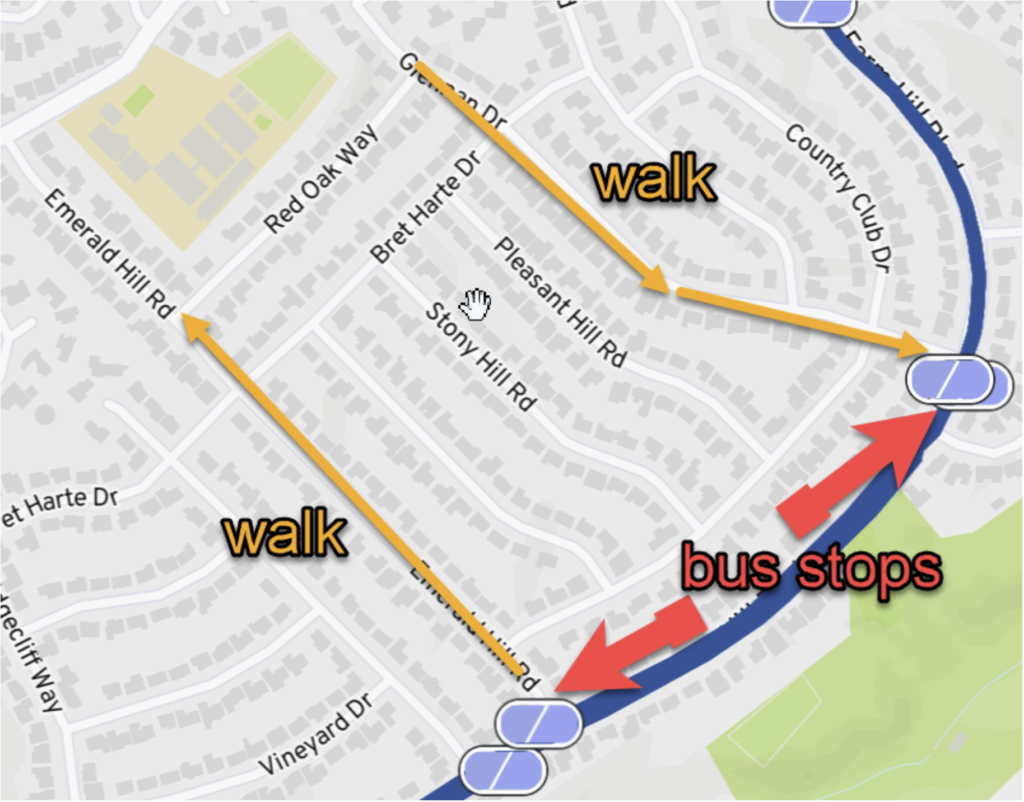 Samtrans route 278 and 78 are the only options to get to and from school currently – if you are coming somewhere from up the hill close to 280 ,this might be a very good option for you. From the downtown area the bus would take you up Woodside road first to 280 and then down form Canada college again.
In the afternoon the route is reversed, so you can easily get up to Canada college, but for downtown it would take you via 280 down Woodside Rd again.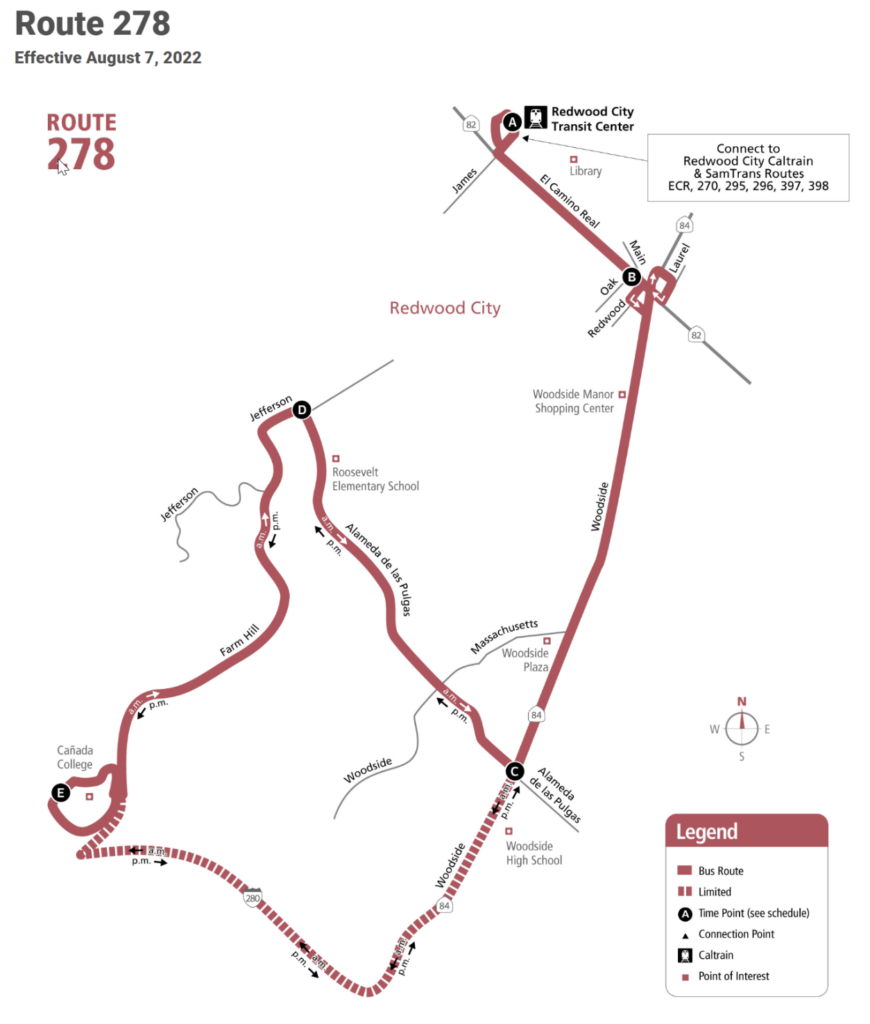 This had been a popular bus especially for middle school students on their way home. Check out whether the routes will work out for you!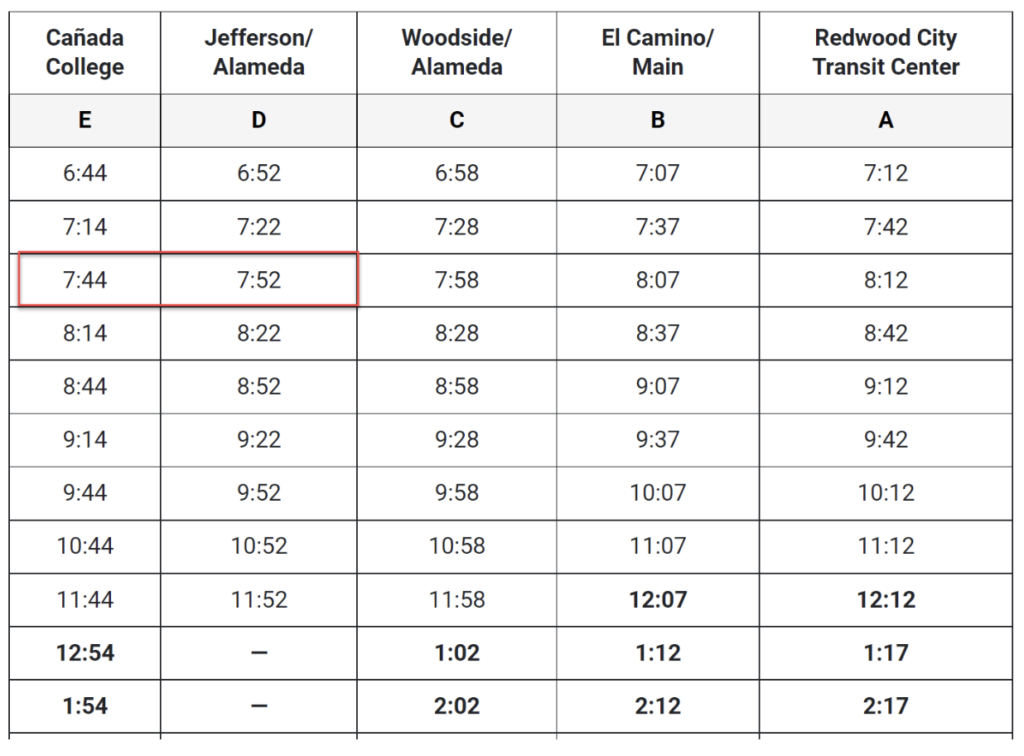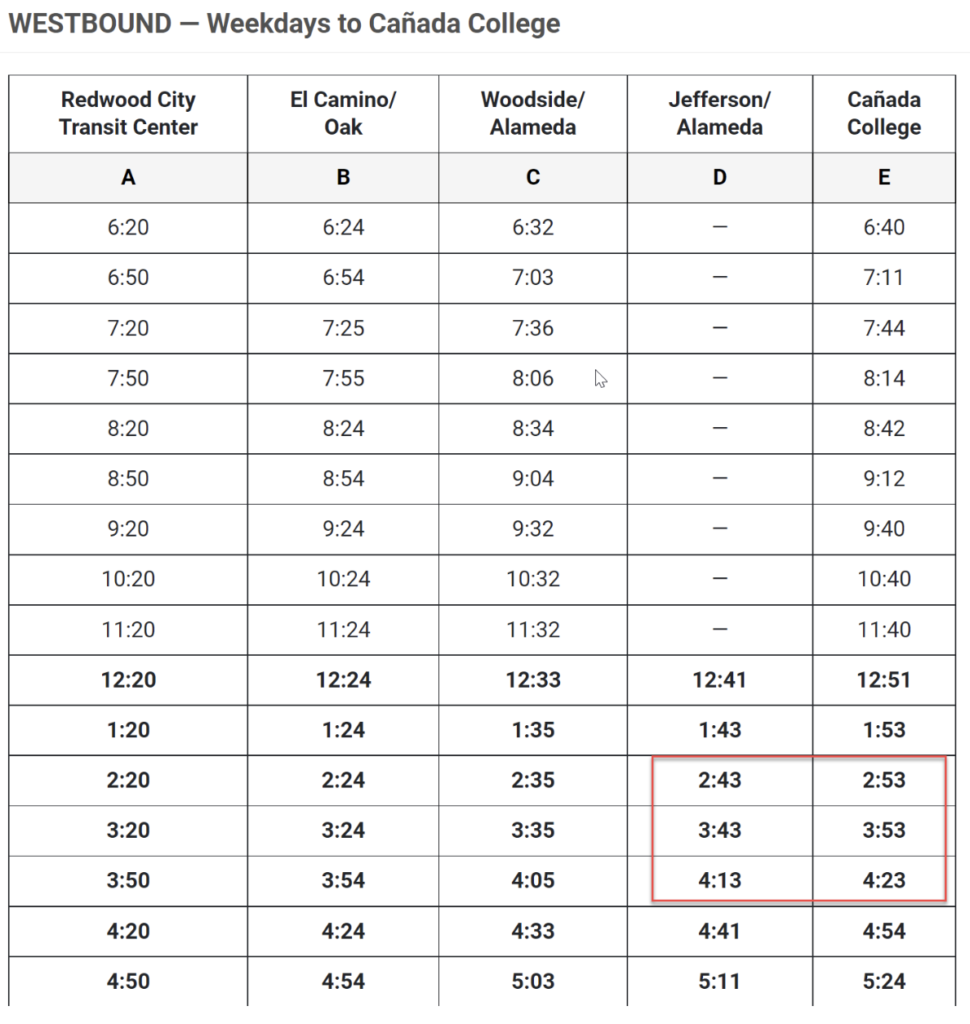 Other safe Routes to School Resources
Do you still have questions that you can't find the answers to on this webpage? Please email heidi.von.briel@gmail.com and I will try and find the information for you!
Here are some city/county/state resources concerning Safe Routes to school