Tickets Now on Sale for Our 2023 Production of The Little Mermaid JR.!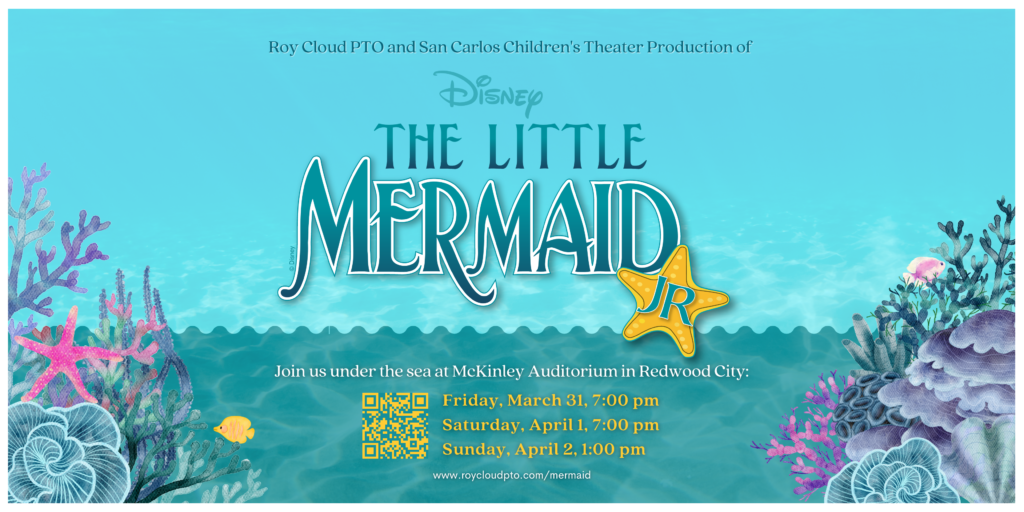 As the first school in the Redwood City School District to partner with San Carlos Children's Theater, we are delighted once again to put on a great show for the Roy Cloud Community.
You may not know just how much goes into these performances. Volunteer parents accumulate more than 35 hours each (some more than 100 hours) helping with sets, makeup, costumes, advertising- both design and posting, ticket sales, greenroom, and stage crew. New Choreographers and Directors are chosen each year. Roy Cloud 8th graders and Alumni have the opportunity learn lighting and sound from a trained expert.
The children in the production devote over 90 hours of rehearsal time between January and March for each production. The K-3 performers sing and dance to a medley of songs that are specifically chosen to coordinate with each year's play. The 4-8 actors work closely with the Choreographer and Director to create a fantastic show for all to enjoy. Not only does the performance raise money for the PTO, but the Roy Cloud production often donates needed items to the Redwood City School District's Theater Program.