En español: lea la carta de donaciones directas 2023-24 o lea más a continuación.
It's always a good time to donate to the PTO!
While the 2023 PTO Direct Donations campaign runs through October, we continue to accept donations (and company matching) all year long to help us reach our fundraising goal!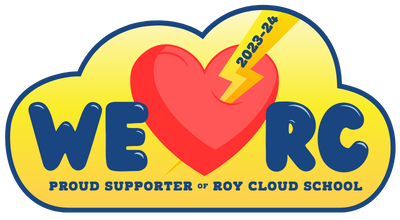 ---
For those families who are new to Roy Cloud, we'd like to extend a special welcome to you and let you know that all parents are automatically members of the PTO. Without your generous support, many of Roy Cloud's beloved programs wouldn't exist. In a typical school year, many essential experiences — detailed on our Programs page — are not provided by the school district, they are funded by the PTO.
Let's continue growing together throughout the 2023-24 school year! Please read the 2023-24 Direct Donations Letter. To send a check, please fill out the form on the second page of this letter and bring it to the school office or mail it to: Roy Cloud PTO, 3790 Red Oak Way, Redwood City, CA 94061.
Questions? Contact fundraising@roycloudpto.com
---
Recommended Donation Amount
We ask each family to contribute $750 per student to help us reach our $300,000 fundraising goal for the 2023-24 school year. We know that each family has different financial circumstances and we appreciate your donation in any amount. For those willing to give more, there is always an option to "sponsor a student" and help offset the financial burden for other families.
As a token of our appreciation, every donor will receive a complimentary 2023-24 Roy Cloud Supporter car magnet to proudly display on their vehicle. We thank you in advance for your donation.
---
Corporate Matching
Do you know that many employers will match your donation? For questions or more information, please email matching@roycloudpto.com.
---
Redwood City Education Foundation
Please also consider extending your generosity to our school district's underserved students via the Redwood City Education Foundation. A donation to RCEF helps fund mental health counselors as well as programs to improve reading and math skills at Redwood City schools that do not have PTOs to fundraise for them. Learn more about RCEF.
---
En Español
Para aquellas familias que son nuevas en Roy Cloud, nos gustaría extenderles una bienvenida especial y hacerles saber que todos los padres son automáticamente miembros del PTO. Sin su generoso apoyo, muchos de los queridosde Roy Cloud programasno existirían. En un año escolar típico, muchas experiencias esenciales: detallados en nuestra página de Programas – no son proporcionados por el distrito escolar, son financiados por el PTO.
Cantidad de donación recomendada
Le pedimos a cada familia que contribuya con $750 por estudiante. Sabemos que cada familia tiene diferentes circunstancias económicas y agradecemos su donación en cualquier monto. Para aquellos que estén dispuestos a dar más, también existe la opción de "patrocinar a un estudiante" y ayudar a compensar la carga financiera de otras familias.
La campaña de donación directa se prolongará hasta el 31de octubre y nuestra meta es recaudar $300,000 incluyendo la comparación de las empresas.
Como muestra de nuestro agradecimiento, cada donante recibirá un imán para automóvil de la escuela Roy Cloud 2023-24 de cortesía. Le agradecemos de antemano su donación.
Información sobre donaciones directas
Para leer la carta de donaciones directas 2023-2024, ¡haga clic aquí!
Para enviar un cheque, por favor complete el formulario en la segunda página de esta carta y envíelo por correo a: 3790 Red Oak Way, Redwood City, CA 94061.
¿Preguntas? Manda fundraising@roycloudpto.com.
Coincidencia corporativa
¿Sabe que muchos empleadores igualarán su donación? Para preguntas o más información, envíe un correo electrónico a matching@roycloudpto.com.
La Fundación de Educación de Redwood City
Considere también extender su generosidad a los estudiantes desatendidos de nuestro distrito escolar a través de la Fundación de Educación de Redwood City. La campaña de donación de RCEF financia consejeros de salud mental, así como programas para mejorar las habilidades de lectura y matemáticas en las escuelas de Redwood City que no tienen PTO.